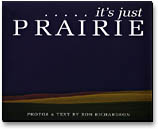 . . . . it's just PRAIRIE ISBN# 0-9680420-0-7
Features 112 brilliant, full-color photos of the prairies including many landscapes taken in all seasons of the year and in all weather conditions, and many wildlife and prairie wildflower photos. Landscapes range from colorful crop photos (aerial and land), rainbows, elevators, skies and memories, to frost and snow, and northern lights. Wildlife photos include antelope, deer, elk, wolf and bear as well as many smaller mammals and birds. Some of the wildflowers featured are tiger lily, yellow slipper, crocus and cactus.
$34.95 each - Order now!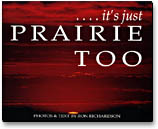 . . . . it's just PRAIRIE TOO ISBN# 0-9680420-1-5
Features 115 all new, brilliant, full-color prairie photos, including new landscapes, again taken during all seasons and weather conditions, and wildlife photos of different birds, animals and wildflowers. Landscapes again include colorful crop photos as well as clouds, lightning, comet, moon, harvest and sundogs. Wildlife photos in this new book include loons, grouse, pelican, fox, wild horses, deer and moose. Some of the wildflowers included are the wild rose, pink slipper, closed gentian and cattails.
$34.95 each - Order now!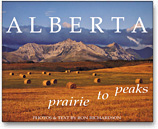 ALBERTA prairie to peaks ISBN# 0-9680420-2-3
Features 134 all new, brilliant, full-colour photographs of Alberta, including both prairie and mountain landscapes, nature, and wildlife photos; taken in all kinds of weather and during all seasons of the year. Landscapes include photos of familiar Alberta landmarks and features, as well as beautiful generic photos of prairie, sky and mountains. Wildlife and nature photos include images of flowers and plants of the open prairie, the forest floor and the high mountain meadows; as well as wild animals including both Black and Grizzly Bears, mountain sheep and goats, buffalo, caribou, battling elk, and numerous smaller animals and birds such as fox, owls, pica and marmots.
$34.95 each - Order now!