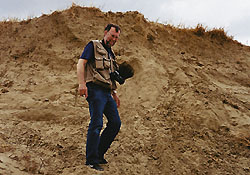 Born in Saskatoon and raised in a small Saskatchewan town, Ron has lived on the prairies for most of his life. He attended the University of Saskatchewan, graduating in 1967 as a Civil Engineer, then worked in Regina for four years before leaving Canada to travel and work overseas for nearly five years. As well as working in New Zealand and Australia Ron spent a year and a half traveling extensively in the Pacific, Australasia, Asia and Europe. Back in Canada, he worked for a time as an engineer in Calgary before moving back to Saskatchewan to start a small construction company in Wynyard with his brother. After fifteen years of building energy efficient housing designed specifically to withstand the harsh prairie climate, Ron began to turn his hobby of many years into a business.
He first acquired darkroom equipment and began printing some of his own transparencies in 1990 and has since taught himself to mat and frame his work. He has also self published three very popular coffee-table books. The first two, titled "it's just PRAIRIE" and "it's just PRAIRIE TOO", highlight the true beauty of the prairie in all its moods and seasons. The most recent book, "ALBERTA prairie to peaks", accents the diversity and beauty of the province of Alberta, from border to border to border to border.
Ron is a self-taught photographer who has been making photographs for over 45 years. He has also traveled extensively in North and Central America and his photography represents a wide range of subjects from all of the countries he has been to. He has also accumulated an extensive collection of prairie and Canadian photos as well as straying from strictly landscape into wildlife and candid photography.
Ron loves the outdoors and nature and spends as much time as he can enjoying the wilderness and making photographs. This love has served him well as he uses his camera to record special conditions of lighting and colour that we all see and admire occasionally but are seldom able to capture so brilliantly on film.
Ron still lives in Wynyard, Saskatchewan with his wife and partner, Libby.
You can e-mail Ron at ron@hereandtherephotos.com